What is a Managed Service Provider?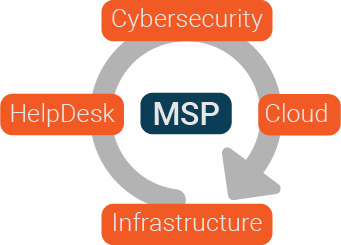 Companies have traditionally relied on internal departments to manage their IT needs. Typically, any average IT department will be staffed with IT administrators, technical support and system engineers that will take care of anything to do with IT. However, small and medium-sized businesses may not have the resources to employ a dedicated IT team, sometimes because they are not large enough to justify investing into one, or in other occasions they just need IT support offered as a service, and then is when a managed service provider steps in.
A managed service provider, also known by its MSP acronym, offers to be the IT department for multiple companies at once, working remotely, and for a fixed monthly cost. Pricing options offered by MSPs are usually based on the number of employees they will be supporting in each company; this approach allows small and medium-sized businesses to reduce their budget while still affording an external IT department to rely on. The main core services that managed service providers cover include cybersecurity, cloud services, helpdesk and Infrastructure. Overall, outsourcing IT services is a more cost-effective, less hassle approach that helps companies focus on their core business while someone else takes care of their IT. Large corporations will also contract a managed service provider when they have budget and hiring restrictions, or in some other occasions they will hire an MSP to complement their own internal IT departments. Additionally, when companies need to undertake an office relocation, they will often outsource the planning and deploying of all IT infrastructure to a managed service provider.
Different Types of MSPs
Managed service providers come in all shapes, forms and sizes. However, 3 main types of managed service providers clearly stand out:
MSP. The most common and typical managed service provider will cover the whole spectrum of IT services, including cybersecurity, cloud, helpdesk and Infrastructure.
MSSP. Managed Security Service Providers specialize in providing end-to-end security services. Services include security information and event management (SIEM), network security, vulnerability assessment, and management of IT security controls delivered out of security operations centers (SOCs).
Specialty MSP. IT service providers highly specialized around a certain hardware service. These types of providers are highly qualified on their specialty topic while still offering complementing IT services. Often specialty MSPs will focus on VoIP, connectivity or printing services and devices.
IT services offered by MSPs
There is a broad range of IT services offered by managed service providers such as cybersecurity, cloud services, IT helpdesk, and managed infrastructure. Each area covers multiple options, in this diagram below you can find a summary of the most common services managed by MSPs.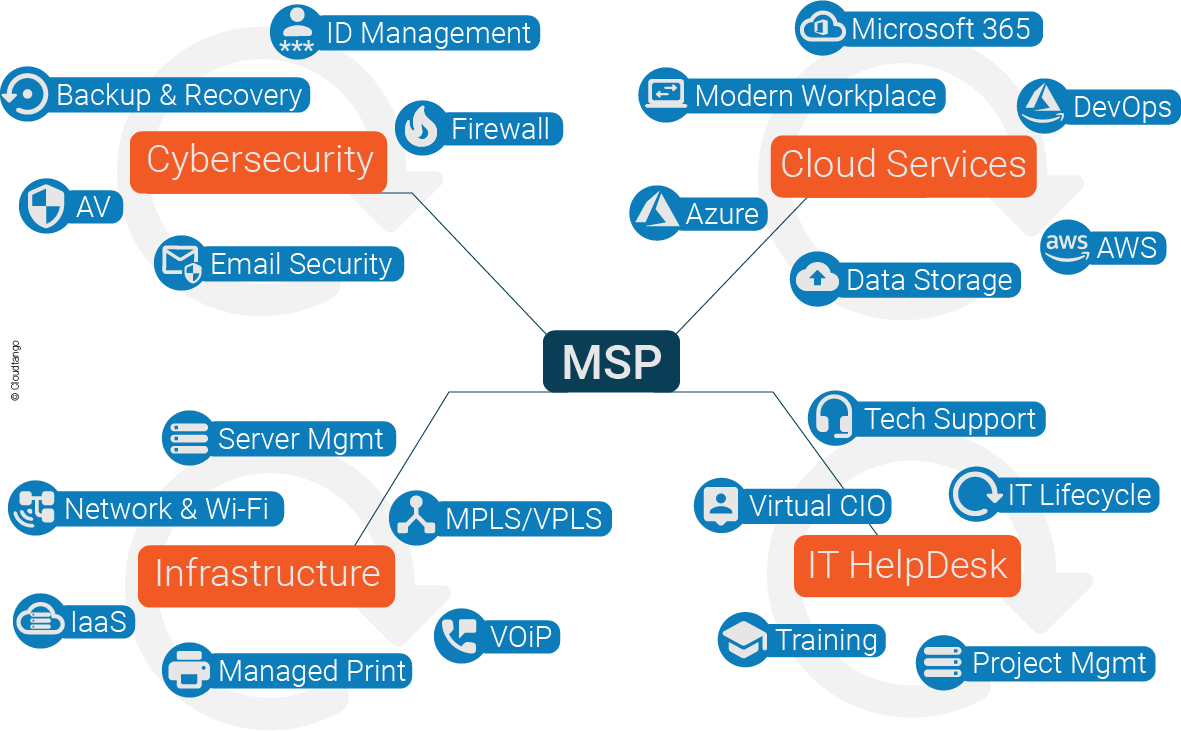 Technological Partnerships
MSPs will traditionally work with technology partners to help them offer scalable solutions with the latest technology in order to support their clients. Microsoft is the largest technology partner in the MSP world, followed by other large vendors such as VMware, Cisco and Dell EMC.
Managed service providers do partner with several vendors, by working with multiple technology providers, MSPs can better deliver best of breed solutions for every IT requirement. In some cases, MSPs can decide to specialize on a single partnership in order to develop their expertise exclusively around this specific partner's technology stack. There are literally hundreds of technological partners working with managed service providers across the globe, below you can find a small sample of some of the largest ones:
Examples of work provided by MSPs
Below you can find some real-life examples of the type of work a managed service provider performs for its clients. These case studies and success stories demonstrate the ability to execute and deliver on a range of different projects and IT services.
Top managed service providers around the globe
Cloudtango's annual awards recognizes top performing Managed Service Providers across the globe. These awards help spotlight those MSPs who excel over several critical areas, such as support services, customer satisfaction, market growth, certifications, and innovation. Here you can find the top performing managed service providers by country:
Global, United States, United Kindgom, Germany, Canada, all countries.