Partners Say Goodbye to Microsoft's Gold Competencies

Microsoft announced in 2022 the launch of a new partner program coming to replace the current silver and gold competencies that partners across the globe have been accustomed for such a long time. Well the new partner program is finally here and it replaces competencies for Solutions Partner designations.

The new Solutions Partner designation will demonstrate expertise in specific areas of Microsoft technology and a track record of delivering successful solutions to customers. This new designation recognizes partners who have achieved a high level of proficiency in specific areas of Microsoft technology, such as cloud, artificial intelligence, and data analytics. These partners must demonstrate a commitment to delivering high-quality solutions to customers and a proven track record of success. Just like the previous competencies, this new designation is intended to help customers identify partners who have the expertise and experience needed to help them achieve their business goals.

The new partner program replaces competencies for Solutions Partner designations. These new designations are now divided in six different designations:
Business Applications
Data & AI (Azure)
Digital & App Innovation (Azure)
Infrastructure (Azure)
Modern Work
Security

Partners who attain all designations above will automatically ear a Microsoft Cloud badge.

Specializations
Once a partner attains a Solutions Partner designation, they can add technical expertise and experience through specializations. Specializations further validate deep technical expertise after you attain a Solutions Partner designation and set you apart from the competition. Specializations will therefore be reflected in the badge, here is an example of a Solutions Partner Badge with and without specializations: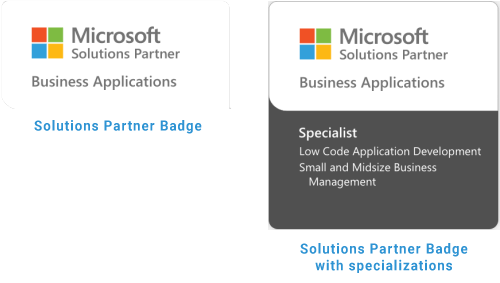 Specializations Included in each Solutions Partner Designation
Specializations are designed to display technical expertise and the new program has reorganized and rearranged the previous competencies into a brand-new structure. Below you can find all the different specializations and how they align to each Solution Partner designation.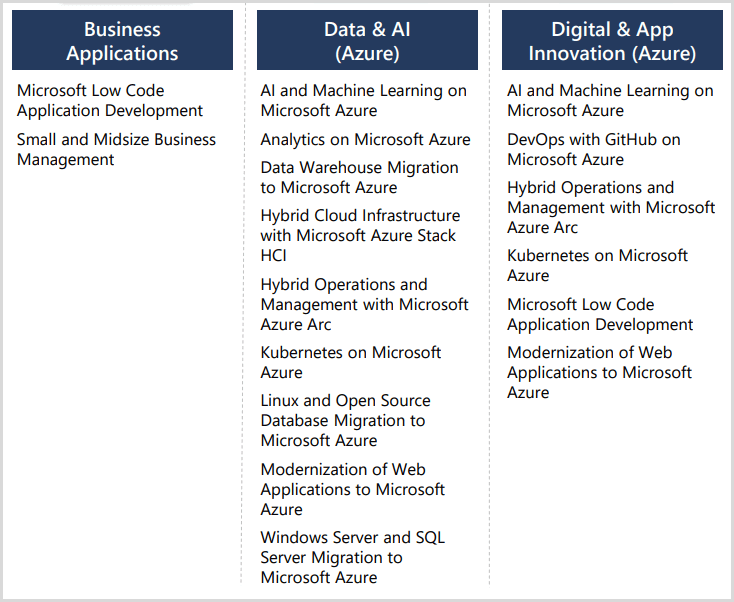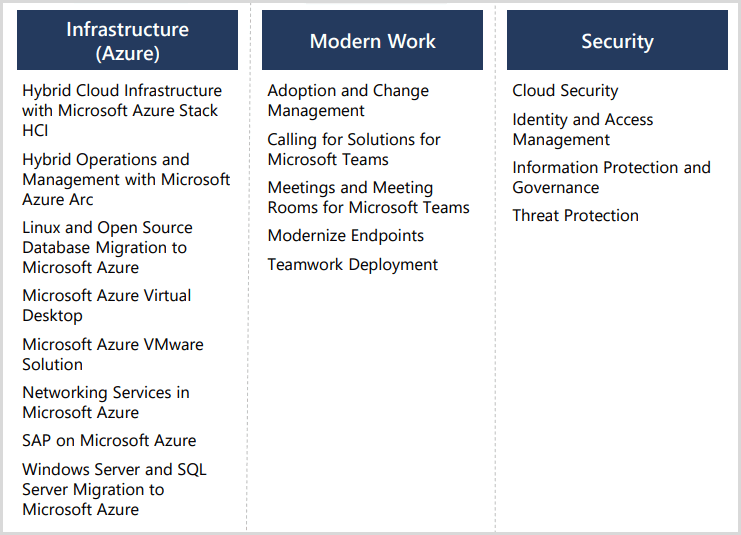 Changes in Cloudtango
Following Microsoft's new partner program, here at Cloudtango, we will be aligning our site to the new solutions partner designations and therefore updating our entire website to better reflect this new reality.
In February 2023, all Managed Service Providers will be able to update their Microsoft's certifications in their Cloudtango profiles by following the same traditional editing process.
More information on Microsoft's partner program can be found here.
Published by Helena Vorschepoth, Cloudtango